What is an RFI?
In construction, RFI is an abbreviation for Request for Information. It refers to a solicitation of details or additional information about an aspect of the project that needs clarification. RFIs may be sent to, or from, anyone involved in the construction project, including the owner, construction manager, general contractor, architect, designer, suppliers, and subcontractors.
Usually, an RFI is sent when one party needs critical information to proceed or make a decision. Some common reasons that someone would send an RFI include:
Missing, incomplete, or incorrect information exists on project specifications and documents.
Plan details must be changed because of design flaw, material availability, costs, or other reason.
Updates must be made to plans based on new or previously unavailable information about the project site.
Change requested by owners, designers, or contractors needs to be made official.
A detail within the plan specifications could be incorrect and needs to be reviewed.
A designer, engineer, or contractor needs details about possible materials or equipment from a supplier.
An RFI may be created for an endless number of reasons, and the process of creating and sending the request accomplishes multiple goals:
Formalizes the request for additional information or changes to plans
Documents concern about materials or cost estimates
Shares information and highlights changes to all key players in the project
All of this helps the project progress smoothly and limits legal and financial liability for groups that stick to the process of using formal requests for information.
RELATED TERMS
How to Write an RFI for Construction
For organizations or projects that do not have a formalized template, software, or guidelines for creating and submitting a new request for information, individuals might be hung up on exactly how to formulate an effective RFI. Here are some best practices, drawn from experienced construction professionals, on how to put together an effective request:
Use clean / simple formatting
Follow a consistent format and naming convention
Ask one question or request very specific information
Be specific
Provide complete and accurate context of the situation or question
Maintain a professional, considerate tone
Include attached documents, images, or video, when necessary
Suggest a solution or possible explanation to the question or issue
Provide a specific, yet fair, amount of time to respond to the request
Individuals should consider that any RFI they create will be a record of the project's progress and may be referenced if any legal, financial, or insurance-related issues come up. Sticking to a professional RFI process and making sure to use it appropriately is a good way to stay on the right side of any issues that might arise.
Construction RFI Example
This example uses a simple RFI template and shows a general contractor requesting information from the project engineer because the plan specs were not clear. There are many ways to structure this type of request, but most professionals agree that simpler is better.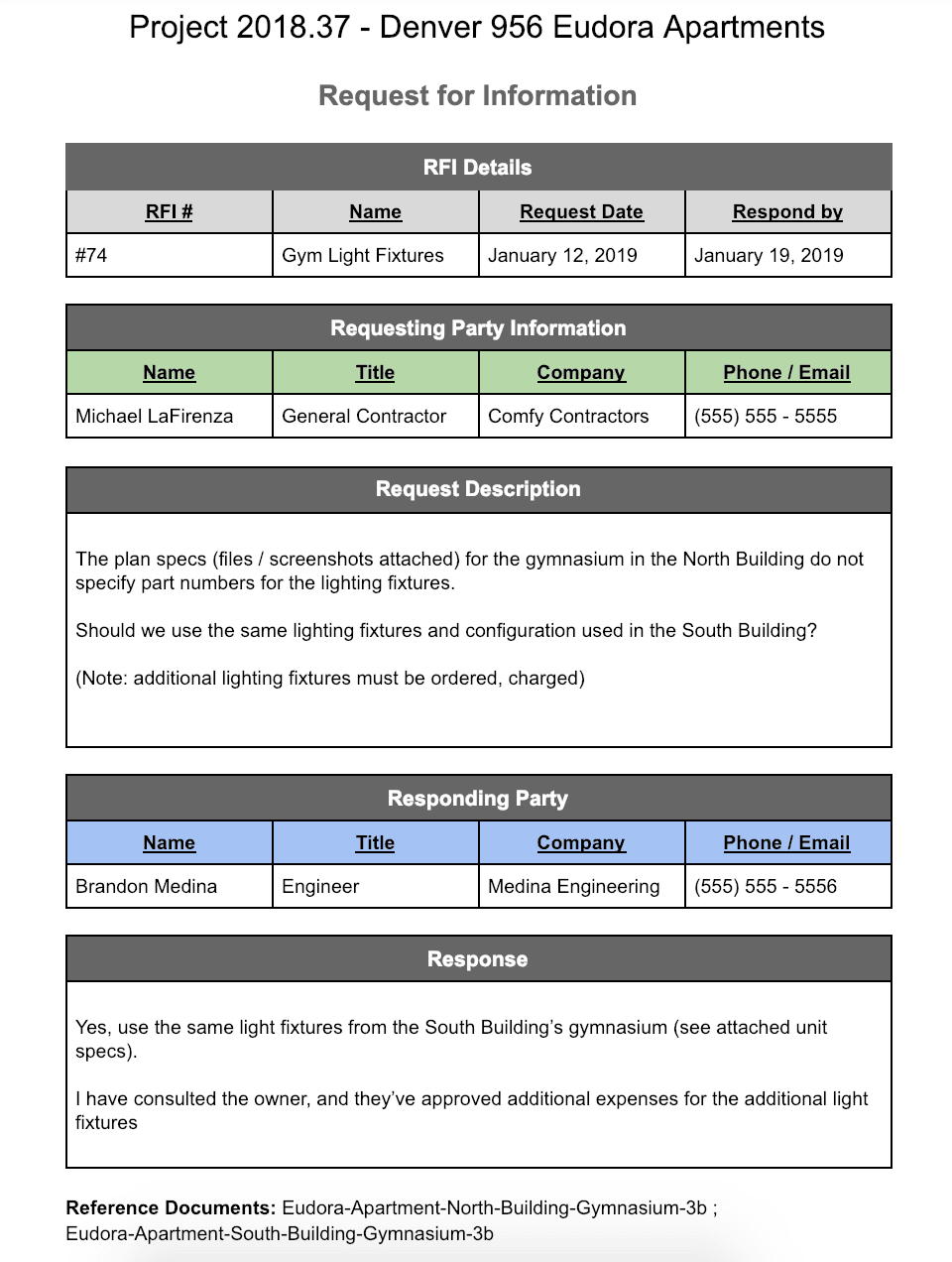 Free Construction RFI Template
Many organizations will already have a process, template, or digital system for managing the RFI process. For those that don't have such resources at their fingertips, we've created a simple RFI template to help get started. Download or copy this template and adjust it to fit the specifics of your organization or project:
Construction RFI Template: Google Drive, Microsoft Word (.docx)
Managing RFIs with Software
For large projects (over $1M), it is likely that dozens, if not hundreds, of RFIs will be sent between the key managers and team members of the project, which can create a document management problem for project managers and the rest of the team.
Construction professionals can turn to modern technology, in particular, construction project management and RFI management tools, like Procore and Buildertrend to help manage the RFI process and other parts of the project.
By clicking on these links, you may be taken to one of our insurance partners. The specific company listed here may or may not be included in our partner's network at this time.